STUDIOone
Hours of Operation
STUDIOone Recording Studio and Editing Suites are open by appointment only during the following business hours. 
Monday-Friday 8am-5pm*
Subject to availability.
Faculty, students and staff who need to record an/or edit video content can schedule an appointment by emailing
idealab@lib.olemiss.edu
. Please allow a minimum one business day in advance of scheduling a session.
About the Video Recording Studio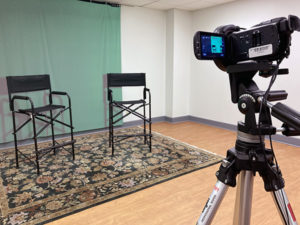 The Video Recording studio is a simplified video recording setup that includes a video camera, tripod and blue/green screen capability.  An SD card and read are provided to record your video and transfer video files to your laptop or cloud storage. An iMac is also available for reviewing your video or making quick edits using iMovie.
About the Video Editing Suite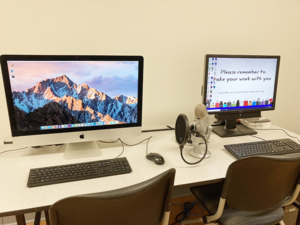 The Video Editing Suite contains the necessary hardware and software needed to produce quality video projects. The software ranges from simple quick edit tools to complete eLearning packages which can incorporate a variety of media and quizzes. The Video Editing Suite contains one 27-inch iMac running OSX Yosemite, so you can choose the operating system. This room is also equipped with a Yeti microphone and earphones.
The software available is:
iMovie (Mac)
Camtaisa (Mac & PC)
SnagIt (Mac & PC)
Captivate 8 (Mac & PC)
Adobe Creative Cloud (Mac & PC)
Audacity for audio (Mac & PC)
Handbrake (Mac)
Screenflow (Mac)