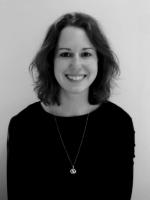 Savannah Kelly
Research & Instruction Librarian and Assistant Professor
105 - J.D. Williams Library
My role:
As a member of the Research and Instruction Department, I am the librarian for the School of Education and Department of Psychology. I teach instruction classes, answer questions at the library Reference Desk, order materials for the education and psychology collections, and meet regularly with students and faculty.
To schedule an appointment: https://savannahlkelly.youcanbook.me/
Research Interests:
My research interests include first-year students' transitions in postsecondary education, interdisciplinary teaching collaborations, assignment design, and the role of affect on students' research processes.
Selected Publications and Presentations:
Select Publications:
Kelly, Savannah L. (2019). "Faculty perceptions of librarian value: The moderating relationship between librarian contact, course goals, and students' research skills." Journal of Academic Librarianship, 45(3).
Young, Brian W. & Kelly, Savannah L. (2018). "How well do we know our students? A comparison of students' priorities for services and librarians' perceptions of those priorities." Journal of Academic Librarianship, 44(2).
Kelly, Savannah L. (2017). "First-year students' research challenges: Does watching videos on common struggles affect students' research self-efficacy?" Evidence Based Library and Information Practice, 12(4).
Kelly, Savannah L. & Young, Brian W. (2017). "Examining undergraduates' library priorities through Q methodology." Journal of Academic Librarianship, 43(3).
Kelly, Savannah L. "Minority students in university remediation: A phenomenological analysis of their high school and first-semester college academic experiences" (accepted).
Winslow, Rachel R., Skripsky, Sarah L., & Kelly, Savannah L. (2016). "Not just for citations: Assessing Zotero while reassessing research." In B. D'Angelo, S. Jamieson, B. Maid, J.R. Walker (Eds), Information Literacy: Research and Collaboration across Disciplines. Boulder, CO: University Press of Colorado.
Kelly, Savannah L. (2015). "Promoting critical dispositions: Incorporating the IL Framework in one-shot library instruction." Mississippi Libraries, 78(3).
Kelly, Savannah L. (2014). "Librarians, renounce the research paper! Using rhetoric to improve assignment design." College & Undergraduate Libraries 21.1.
Select Presentations:
LOEX, 2017, Lexington, KY: "Don't Look a Gift Horse in the Mouth: When the Data You Receive is Not the Data You Want"
LOEX, 2016, Pittsburgh, PA: "Helping Outliers become College Ready: Using Technology to Cultivate Positive Relationships with Students Enrolled in Remedial Curriculum"
WILU 2013, Fredericton, New Brunswick, Canada: "Connecting the Academy and the Real World: Using Dilemma Cases to Teach Students Lifelong Inquiry"
ACL 2013, San Diego, CA: "Taming the Dragon: Refining Pedagogical Techniques through the Fire of One-Shot Library Instruction", co-presenters Robin Lang and Molly Riley
LOEX 2012, Columbus, OH: "Forget the Database, What's the Argument?: Revitalizing a For-Credit Course by Teaching Rhetoric, Critical Thinking and Research as Conversation"
LOEX Encore, 2012, Online: "Forget the Database, What's the Argument?: Revitalizing a For-Credit Course by Teaching Rhetoric, Critical Thinking and Research as Conversation"
eSWUG 2010, Orange, CA: "How Do You Come Across? A Collaborative Look at the OPAC", co-presenter Mary Logue
Select Research Posters:
EBLIP, 2017, Philadelphia, PA: "First-year students' research challenges: Does watching videos on common research struggles prior to library instruction increase students' confidence?", People's Choice Award, 1st place
ALA, 2016, Orlando, FL: "Examining Undergraduates' Library Priorities through Q Methodology", co-presenter with Brian W. Young, EBSS Research Poster
ALA, 2016, Orlando, FL: "Librarian vs. Student Perspectives on Technology", co-presenter with Brian W. Young, STS Research Poster
Honors:
IRDL Scholar, 2016
ACRL Immersion Program, Assessment Track, 2012
Excellence in Assessment Award, Westmont College, 2012
ACRL Immersion Program, Teacher Track, 2010
My Guides