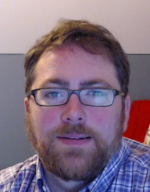 Brian Young
Collection Strategist & Scholarly Communication Librarian
J. D. Williams Library
My role:
Brian Young is UM Libraries' collections strategist and liaison to the School of Engineering.
In his role as the collections strategist, Brian works collaboratively with other librarians to implement new approaches to collection development/building in order to develop and maintain a sustainable budget. This primarily includes reviewing and introducing new models for accessing content and seeking to understand how users currently access and use currently owned and licensed resources.
In his role as the School of Engineering liaison, Brian works with the school to support faculty, develop collections, and provide library instruction and research support for students.
Brian also supports the Research and Instruction Services department by teaching first-year instruction initiatives classes and providing reference support through virtual chat.
Brian's research interests include scholarly communication, library collections, and the intersections/tensions between the two topics.
My Guides