Visual Collections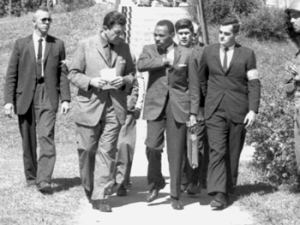 Visual Collections mission is to acquire, preserve, and make accessible photography, moving image and audio materials relating to the University of Mississippi, the state of Mississippi, and the American South. The Collections are part of the Department of Archives and Special Collections, in the J.D. Williams Library. The Visual Collections also hold the legacy materials of the Southern Media Archive, which was established by the University of Mississippi's Center for the Study of Southern Culture to collect photographs, film footage, and audio recordings of Southerners for use in creative documentary projects. These materials transferred to Visual Collections in the year 2000.
Patrons can use the collections during our regular hours from 8:00 to 5:00, Monday through Friday, except during selected school holidays. Please contact the department if you are planning research or have any additional questions not answered on this site. Many of our collections are in cold storage and need extra time (1-2 days) to acclimate before use, so please plan accordingly.
Forms
For a list of Archives & Special Collections Forms and Policies, visit our Forms & Policies page.
Visual Collections Guides
Modern Political Archives Photographs– Images from our Modern Political Archive.
The Southern Media Archive – Are the legacy collections from the Center for the Study of Southern Culture.