General Special Collections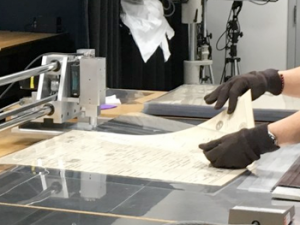 Main Special Collections contains over 69,000 rare books. Each of these volumes deal with Mississippi in some way: they are written by Mississippians; and are about Mississippi, etc. We collect Mississippi authors in every conceivable language: books on Mississippi history and culture and books related to the University of Mississippi. Besides our rare book collection we have over 800 manuscript collections. These manuscript collections contain manuscripts of several sorts: literary; civil war; civil rights; family histories; business history, etc.
We are perhaps best known of our literary collections, the crown jewel of those is William Faulkner's "Rowan Oak Papers." Discovered in a broom closet at Faulkner's home, the "Rowan Oak Papers" are one of the greatest finds of modern literary manuscripts. They contain several thousand sheets of autograph and typescript drafts of poems, short stories, film scripts, and novels written by Faulkner in some of his most creative years, between 1925 and 1939. We are also have the literary collections of several other Mississippi authors: Larry Brown; Willie Morris; Barry Hannah; Ellen Douglas; Beth Henley; and others.
The purpose of Traditional Special Collections is to acquire, conserve, and make accessible rare books, manuscripts, ephemera, all dealing with Mississippi.
Not all audio formats found in General Special Collections can be played by researchers. Some audio is found on open reel audio tape or other fragile formats that might be the only known copy. In some cases, these have been digitized and researchers can listen to a digital access copy. Items not yet transferred are in a digitization queue. Because of physical condition, some materials require extraordinary intervention and specialized equipment to be digitized. These processes are often time consuming and expensive.