About Research & Instruction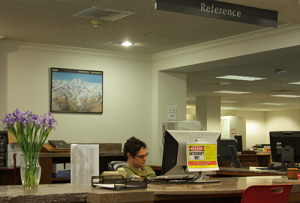 The Research and Instruction Department supports the University Libraries by promoting resources and services that help produce informed researchers. We collaborate with instructors to improve teaching and learning, emphasizing critical thinking skills at all levels on the Oxford and regional campuses.
Research & Instruction librarians are:
Research consultants for faculty, staff, and students. We are here to help you find information using print and digital resources at any point during the research process. Schedule a one-on-one consultation with us at your convenience.
Librarians to UM departments. We manage and develop a large variety of print and digital collections. Email us individually to see how we can help meet your teaching and research needs.
Collaborative Instructors. We provide online and in-person instruction at all levels, using Information Literacy Learning Outcomes and Goals to guide sessions. We are happy to collaborate with you to meet the needs of your classes, whether that is through creating online materials, embedding resources in Blackboard, visiting classes, or a combination of support. R&I Librarians teach critical thinking skills to first-year students through our First Year Instruction Initiative, which includes working directly with the following classes: EDHE 105/106/202/305, DS 094/098, WRIT 100/101/102, HON 102, SPCH 102/105, and LIBA 102. Email Melissa Dennis to learn more about our first year instruction initiative.  For subject-specific instruction, please contact your Subject Librarian.

Reserve A Classroom
Visit us in our offices in the J.D. Williams Library in Rooms 104, 105, and 106. Call us at 662-915-5855 or email us at asklib@olemiss.edu.