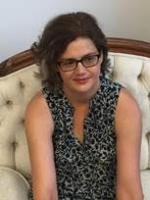 Amy E. Gibson
Research & Instruction Librarian and Professor
105 - J.D. Williams Library
My role:
As a Research and Instruction Librarian, I serve as the liaison to African American Studies, Legal Studies (Criminal Justice), Gender Studies, Military Studies and Southern Studies. I answer questions at the reference desk, teach library instruction classes, order materials for my liaison areas, and meet with students and faculty for research consultations.
To make an appointment: https://amy-library.youcanbook.me/
Education:
Bachelor of Arts, English Major, 1992 Kalamazoo College, Kalamazoo, MI
Master of Library and Information Science, 1999 School of Library and Information Studies, University of Wisconsin-Madison, Madison, WI
Doctor of Philosophy in Higher Education, 2009 University of Mississippi, Oxford, MS
Research Interests:
Information Literacy; Assessment; Student Learning Outcomes; Information Seeking Needs/Behaviors; Focus Groups; Leadership in Higher Education.
Selected Publications and Presentations:
Mark, Amy E. (2011). Privileging peer review: Implications for undergraduates. Invited column. Communications in Information Literacy 5(1), 4-8.
Mark, Amy E. (2011). Format as a False Judge of Credibility: Messages from Librarians and Faculty and Student Responses. Communications in Information Literacy 5(1), 21-37.
Kellum, Kate, Mark, Amy E. & Debra Riley-Huff (2011). Development, assessment and use of an online plagiarism tutorial. Library Hi Tech 29(4), 641-654.
Mark, Amy E. (2008). Educational technology funding models. AACE Journal 16(4), 405-424.
Kuh, George, Boruff-Jones, Polly D. & Amy E. Mark (2006). Engaging students in the first year of college: Why academic librarians matter." L.L. Hardesty (ED.). The Library and the First-Year Experience. Columbia, SC: National Resource Center on the First-Year Experience and Transitions. Book Chapter.
Mark, Amy E. (2005). Libraries without walls: An internship at Oshkosh Correctional Institution library. Behavioral and Social Sciences Librarian, 23(2), 97-111.
Mark, Amy E. & Boruff-Jones, Polly D. (2003). Information literacy and student engagement: What the National Survey of Student Engagement reveals about your campus. College and Research Libraries, 64(6), 480-493.
Choinski, Elizabeth, Mark, Amy E. & Murphey, Missy. (2003). Assessment with rubrics: An efficient and objective means of assessing student outcomes in an information resources class.​ portal, 3(4), 563-575.​
My Guides