Library Services During the University's Response to COVID-19
---
Updated June 25, 2020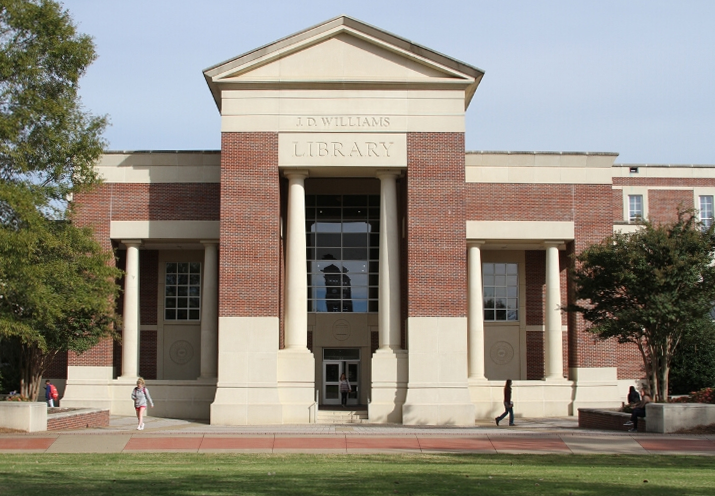 The physical library will be closed to all users. The online library is open and users are encouraged to access our electronic resources and services from our homepage. 
Please contact us with any questions or concerns at libadmin@olemiss.edu. Here are just some of the services we can provide:   
Digitizing print material service will be available only once a week.
Ask a Librarian chat reference service is available Monday-Thursday 9:00-5:00, Friday 9:00-1:00.  
DUE DATES
Due dates for all material currently checked out have been extended.
Patrons are asked to keep any items currently checked out until the libraries reopen. No overdue fines or fees will be assessed during this time. Email libadmin@olemiss.edu with questions. 
COURSE MATERIALS 
The Libraries can digitize materials needed for your course. If you have materials on course reserve or need your textbooks available electronically, visit our digitizitation request form.  Also, links to the digitization request form have been added to the catalog.
A number of ebooks are already accessible on our website. 
We are able to purchase electronic access to additional ebook titles and ebook with multiple user licenses.   
We can provide streaming video including options for teaching research methods and scientific experiments.  
LIBRARY MATERIALS FROM THE STACKS 
Patrons may request that a portion of an item be digitized. Request for digitized materials will be once a week. Patrons can request an item using our digitizitation request form.
RESEARCH AND INSTRUCTION SERVICES 
Our  new guide on Online Learning Resources is available. Learn about how the library can support the transition from in-person to online classes. 
All research and instruction support is available remotely and can be conducted by telephone, email, chat, or video conferencing. 
Schedule appointments with subject liaisons for group instruction and individual research consultations. Contact your liaison here. 
Research Guides are available for many courses and topics. These guides provide curated lists of resources and research tips including full-text sources, reference sources, and other websites of interest. Access a full listing of research guides here.
 ACCESS TO RESOURCES 
The Libraries' homepage provides access to plenty of resources available online 24/7 including databases, journal articles, e-books, videos, digital collections and more.   
The purchase of print resources will be discontinued during this time until they can be safely resumed.
Visit eGrove for a free online archive with intellectual output from researchers at the University of Mississippi. 
INTERLIBRARY LOANS - We have suspended ILL of physical items, but continue ILL of articles and chapters to the extent that other libraries can supply them.  Log in to ILLIAD for services. 
SPECIAL COLLECTIONS - Special Collections continues to offer virtual reference services. Please send research questions to  archivesdept@olemiss.edu. The reading room is closed to the public. Selected  archives exhibits and main library displays are available online, although the current exhibit is closed.
SCIENCE LIBRARY - The Science Library is closed. We encourage you to use the resources and services available on our homepage. For further assistance please contact jtburto1@olemiss.edu.
IDEAlab - The IDEAlab is closed.
STUDIOONE - STUDIOone Recording and Editing Suites are closed