Blues Symposium – Save the Date
Blues Symposium – Save the Date
Save the Date
What: Blues Today Symposium
When: Thursday, April 9, 2015
Where: Archives & Special Collections, third floor of the J. D. Williams Library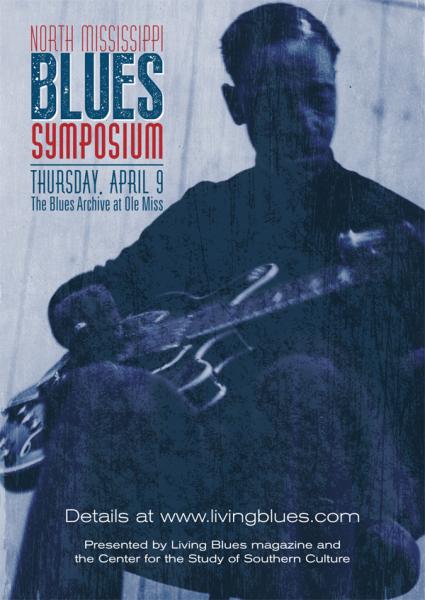 Since holding our first Blues Today Symposium in 2003, the University of Mississippi has hosted a number of the world's top blues performers and scholars. In just the first year alone we had performances by and a panel discussion with Little Milton, Willie King, and Bobby Rush. The next year we made B. B. King an Honorary Professor of Southern Studies. We've had keynote addresses from Paul Oliver, Samuel Charters, Stanley Crouch, and Bill Ferris, to name a few. The symposium has always had a good balance of academic discussion and musical performance. Where else could one get to hear a public interview between Jim O'Neal and Honeyboy Edwards, and later experience Edwards perform in a Hill Country juke joint?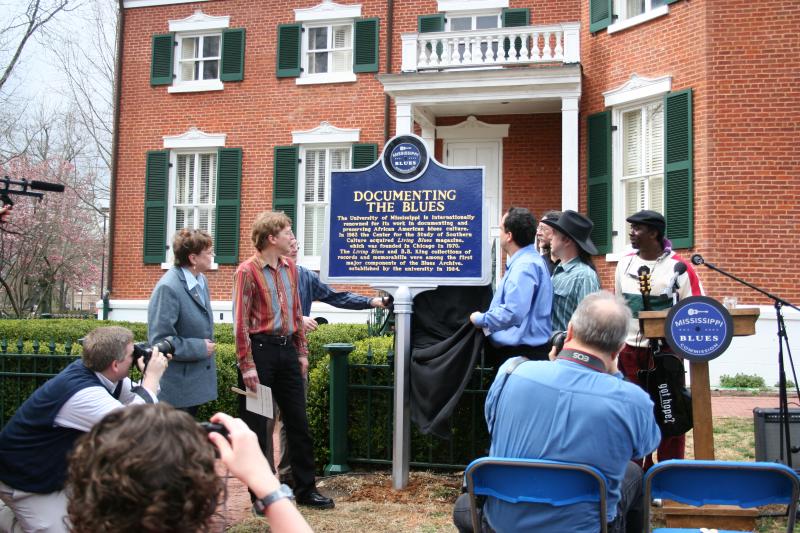 Unveiling the "Documenting the Blues" marker for the Mississippi Blues Trail at the 2009 Blues Symposium.
Living Blues magazine, in conjunction with the Blues Archive and the Center for the Study of Southern Culture are proud to host another Blues Today Symposium on April 9, 2015. This year we will focus on the North Mississippi Hill Country Blues traditions. Dr. David Evans director of the ethnomusicology and regional studies doctoral program of the Rudi E. Scheidt School of Music at the University of Memphis, will deliver the keynote address.
Schedule of Events
All presentations except for Thacker Mountain Radio will occur in the Faulkner Room of the Department of Archives and Special Collections on the third floor of the J. D. Williams Library (map and location information).
9:00 a.m.  "Archiving the North Mississippi Blues"
Greg Johnson
10:00 a.m.  Study the South paper presentation: "The Lynching Blues: Robert Johnson's 'Hellhound on My Trail' as Anti-Lynching Performance"
Karlos K. Hill
11:00 a.m. "Exploring Africanisms in Otha Tuner's Fife and Band Music as Recorded by Alan Lomax"
George W. K. Dor
noon   Lunch on your own
1:00 p.m. Keynote Lecture by David Evans
2:15 p.m.  A Conversation with Malaco Recording Artist Sam Mosely
3:00 p.m.  "Documenting the Life of Mississippi Fred McDowell"
Discussion and Preview with Filmmakers Joe York and Scott Barretta
4:00 p.m. "Contemporary Hill Country Blues Culture"
Alice Pierotti
6:00 p.m.  Thacker Mountain Radio program
Oxford Square
All sessions of the symposium are free and open to the public.
For more information or for any updates, visit: http://southernstudies.olemiss.edu/event/blues-today-symposium/